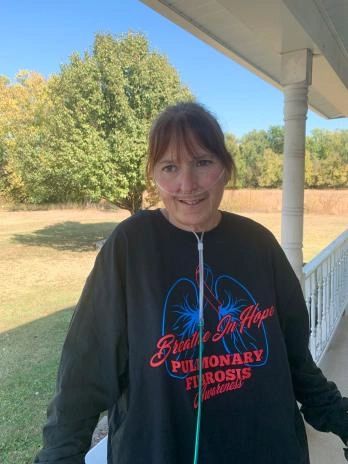 Donation
This is a donation only. If you wish to donate more you can do so by changing the quantity amount.
Hi, my name is Cindy Noeller. I was diagnosed with Pulmonary Fibrosis three years ago. At this time we are in the process of working towards a double lung transplant and need your help. I'm working with All In Screenprint to help raise awareness of this disease and help offset some of my medical expenses. The proceeds from the sale of these items will go into my medical fund to help with current and future medical expenses.
In simple terms, Pulmonary Fibrosis is the scaring in the lungs affecting how you breathe and get oxygen into the blood. There are approximately 100,000 people affected by this disease in the United States, with an estimated 35,000 new cases diagnosed each year. At this time there is no cure for Pulmonary Fibrosis, only treatments meant to slow the progression. We thank you for your support and helping us spread awareness of this disease.